Paul Grayson's Zone Kicking Challenge
"Zone" training for Peak Performance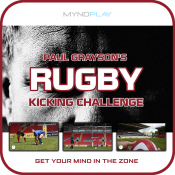 £4.99
Category: Sports
580.0 MB
Language: English
0 ratings
Description
MyndPlay Rugby Exclusive with England Kicking Legend Paul Grayson.
This app has simple rugby kicking exercises which are designed to challenge your mental ability and agility to help you get into the Zone when it matters most.
Based on sporting peak performance principles developed by Paul, this app will help you not just develop the mental skills but also understand the physiological challenges with kicking.
Comes complete with Bonus Round in which you get to take a kick with Paul himself where he puts his kicking abilities into your hands...or mind!
7 Challenges in Total with over 22 possible outcomes.
Challenge yourself today.
*Apps sold at www.myndplay.com are for computers only, mobile versions of the apps can be found in the Apple App Store and Google Play Market
Screenshots: