King Game
Keep your focus to kiss the girl, lose it and the man beast will get you!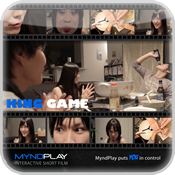 £0.99
Category: Comedy
129.4 MB
Language: Japanese w/ EN Subs
0 ratings
Description
Runtime: Approx 3 minutes with 4 endings
King Game is a popular recreational game played by the young in Japan.
In this film you will find yourself in the middle of the game where you have drawn your lucky number, with a beautiful woman to your left and a man beast to your right, your fate will lie firmly in your mind.
The "King" has decided that you are to kiss one of the 2, stay focused for a positive outcome!
A bit of fun and frolic from Japanese culture.
*Apps sold at www.myndplay.com are for computers only, mobile versions of the apps can be found in the Apple App Store and Google Play Market
Screenshots: