Tug of War
Can you stay relaxed and focused in the face of "Britains Greatest Tuggers"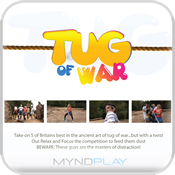 £1.99
Category: Sports
311.3 MB
Language: English
0 ratings
Description
Runtime: Approx 6 minutes (11 mins footage)
*For use with MyndPlay v1.3
Tug of War pits your mental skills against 5 of Britain's best tuggers. Stay calm and focused to bring down your competition and make them eat dust one by one.
Complete all 5 rounds for 4 extra bonus rounds, but beware they will not make it easy as each of your competitors is armed with skills to affect your state of mind be it funny faces, distractions or antagonism...it takes a true mental tugger to make it to the end to take part in and win, in a crazy 5 vs 1 battle...
*Apps sold at www.myndplay.com are for computers only, mobile versions of the apps can be found in the Apple App Store and Google Play Market
Screenshots: