The Great Escape
Keep a cool head and stay focused to make a Great Escape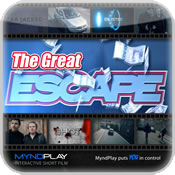 £1.99
Category: Comedy
286.7 MB
Language: English
0 ratings
Description
MyndPlay's first choose your own adventure movie with 10 possible alternatives..
Runtime - Approx 6 minutes (11 minutes of footage)
*Requires MyndPlayer v1.3 and above
The Great Escape sees Jake and Steve, two hapless crooks trying to make their escape from a bank job. Having successfully fled with £1million, their joy is short lived when they find a traffic warden giving their getaway car a ticket. desperately in need of a new way out, they must think quickly on their feet, as you the viewer helps them to decide the best way to freedom and riches.
The Great Escape is a classic farce, with quick tempered Steve having to remain focused as the panicky buffoon Jake questions him at every turn. If you the viewer can assess the situation and keep you cool, you might just help Jake and Steve live another day to spend their loot.
The Great Escape has 5 interactions, 6 endings and 10 possible alternatives.
Director: Mark Murphy
Content Producer: Solar Productions
*Apps sold at www.myndplay.com are for computers only, mobile versions of the apps can be found in the Apple App Store and Google Play Market
Screenshots: