MyndPlay Sports: Bowling
The World's first mind controlled Bowling Game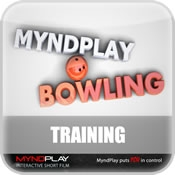 £1.79
Category: Sports
159.9 MB
Language: English
0 ratings
Description
*Requires MyndPlayer V1.3 and above
MyndPlay Bowling as seen and loved at The Gadget Show is designed to mimic the real life bowling experience with built in pressure and distractions designed to help train your mind to have instant focus and the ability to relax and de-stress on demand, all whilst getting the satisfaction of seeing those pins drop.
Develop pin point focus and train your brain to relax in this fun training format.
Focus into the red zone for a strike, once you master focus you will have to train your meditation skills to make 5 clean hits in the Spare Training...
Experience a new level of gaming interactivity with MyndPlay...
*Apps sold at www.myndplay.com are for computers only, mobile versions of the apps can be found in the Apple App Store and Google Play Market
Screenshots: