HD Mynd Meditation: Light Evolution
5 Minutes to De-Stress and Relax your Mind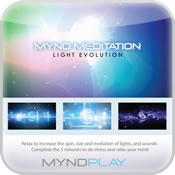 £1.49
Category: Meditation
129.0 MB
Language: English
5 ratings
Description
Runtime - Approx 6 Minutes
*Requires MyndPlayer v1.3 and above
Mynd Meditation: Light Evolution is the perfect meditation partner, it uses a mixture of colours, cosmic lights and natural sounds to help you relax and meditate. Focus on the ball as it spins faster, growing and creating new cosmic light patterns.
The App monitors your relaxation and allows you to progress through all levels and environments, where more time is required the App will give you extra scenes to allow you to get into a deeper and more relaxed state of mind meditation.
Keep relaxed for 5 minutes to complete a perfect session.
This App may contain strobe effects*
720p HD.
*Apps sold at www.myndplay.com are for computers only, mobile versions of the apps can be found in the Apple App Store and Google Play Market
Screenshots: