Bullet Dodger Pt.1Teaser
Immerse yourself in London's Underworld to become The Bullet Dodger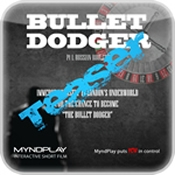 FREE
Category: Action/Gaming
56.7 MB
Language: English
1 ratings
Description
Runtime - Approx 2 minutes
Bullet Dodger:Russian Roulette is an interactive POV style short film charting the rise OR demise of Harry "Bullet Dodger" Taylor as he (you the viewer) is thrust into the dark side of London's Underworld where you must hold your nerve and control your temper to make it through a series of challenges testing even the toughest of minds.
Bullet Dodger brings the British gangster movie concept to life as the you the viewer are literally brought into the plot and storyline directing the scenes and outcome with your emotional control, if you keep your cool and focus you make it to the final table where you are challenged to a game of Russian Roulette; dodge the bullet cleanly to save Harry and make it to part 2.
There are 3 Interactions, 4 Endings and 7 possible alternatives in the full version, use your mind to choose your fate...
This demo allows you to trial the first intro interaction, you have 2 possible outcomes, relax to avoid humiliation!
Director: Abid Mahi
*Apps sold at www.myndplay.com are for computers only, mobile versions of the apps can be found in the Apple App Store and Google Play Market
Screenshots: