Paranormal Mynd: Exorcism
Do you have the courage to perform the Perfect Exorcism?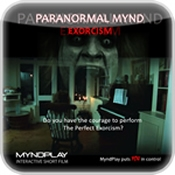 £1.99
Category: Thriller/Horror
277.2 MB
Language: English
1 ratings
Description
Runtime - Approx 7-9 minutes
*Requires MyndPlayer v1.3 and above
Paranormal Mynd: Exorcism is the first in a series of short interactive Horror/Thriller movies with multiple endings and plot lines that change dependant on your thoughts and emotions.
Come face to face with a Demon as an acclaimed Exorcist and use your mental focus and calm to save 3 lives...One being yours.
Interactivity: 2 Interactions, 3 Alternative Endings
As seen on Engadget and in Stuff Magazine (April 2011)
Episode one: Special Price £1.99p
Director: Abid Mahi
Content Producer: Treite Labs - Imagine, Innovate, Inspire
*Apps sold at www.myndplay.com are for computers only, mobile versions of the apps can be found in the Apple App Store and Google Play Market
Screenshots: