GoCalm Exam Anxiety App for Windows
First App designed to help learners cope with exam stress.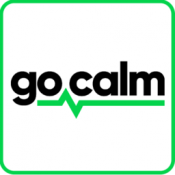 FREE
Category: Brain Training & Education
1,369.8 MB
Description
GoCalm helps learners cope with exam pressure through guided videos, brain training and brain gaming with session history and progress reporting to keep learners focussed and calm for exams and beyond.
Most learners will feel nervous under exam pressure. GoCalm is designed to help learners identify how it feels to be calm and focused so they can bring that state of mind into their exams.
Need to relax and focus quickly?
Follow the guided videos for techniques to relieve anxiety and move towards a more relaxed and focused state of mind.
Want to improve focus and learn how to feel calm at times of stress?
Train your brain by understanding and visualising how it feels to be calm, focused or both with a series of exercises. A choice of levels and times helps track your progress.
Want to improve your mind through play?
See how being calm and focused affects your performance with a choice of fun games. Buy the GoCalm app together with a headset and choose 3 additional MyndPlay apps free.
Up to 10 individual profiles also allows you and your students, friends or family to get involved and build their own session history.
*Windows Version Only
**Also available as a bundle with in the Headset section
Disclaimer: The GoCalm app is designed to help learners develop coping strategies for exam pressures. It's not designed to be a substitute for seeking professional medical advice on any health-related matter. If you have any concerns please speak to a responsible adult/teacher or consult your General Practitioner (GP).
*Software and apps sold at www.myndplay.com are for computers only, mobile versions of the apps can be found in the Apple App Store and Google Play Market
Screenshots: