MyndPlay for Mac v2.3
Mind Controlled Media Player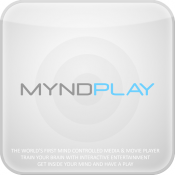 FREE
Category: MyndPlay for Mac
21.0 MB
Description
The Ultimate Brain Entertainment Media System
MyndPlay is the world's first mind controlled media player and platform which connects with EEG BCI technology to allow viewers an engaging, innovative new level of interactivity with video and live motion. MyndPlay gives the user the ability to interact with and change the direction and outcome of a video or movie using only their minds.
Monitor your brainwaves, train your focus and meditation skills or play interactive movies, videos or music files.
*MyndPlay is available FREE for non commercial use only, commercial licensing options are available for players, live events and custom solutions, contact info@myndplay.com for further details.
*Software and apps sold at www.myndplay.com are for computers only, mobile versions of the apps can be found in the Apple App Store and Google Play Market
Screenshots: