MyndHub Only Pre-Order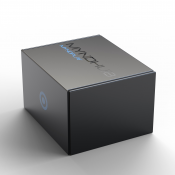 £229.00
Description
MyndHub special offer for Existing MyndBand Customers - Save £120
MyndHub marks the beginning of Experiential Neurofeedback and lets you convert or create mind controlled gadgets, devices and experiences.
It allows a desk lamp to become a realtime focus indicator, warning of burnouts or it can provide real-time meditation feedback so your lamp brightens as your meditation deepens. how you use it is up to you.
for more information on the MyndHub you can learn more at https://www.myndhub.com.
Following our successful Kickstarter campaign the product has been in manufacturing for 7 months and we will be ready to start shipping by June 2023.
The first batch of MyndHub has limited stock and for our existing customers we are offering a special pre-order offer saving you £120.
The retail price in June will be £349 and once the first batch are sold we will not have any more stock till the end of 2023.
Pre-order yours today to avoid missing out.