MyndHub Starter Kit - PreOrder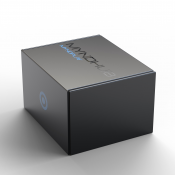 £400.00
Description
Pre Order your MyndHub Starter Kit and Save £250 - While stock lasts
Following on from our successful Kickstarter Campaign we have raised enough funds to build a first batch of 500 MyndHubs, 250 of these were pre-sold so we have 250 units left to offer our exclusive subscribers and customers.
The package includes everything you need to get up and running with the MyndHub; the package includes the MyndBand EEG Headset, MyndHub with Power Supply, USB Fan/Lamp and also a power inverter to plug in any mains device, toy or gadget and power it with your mind.
Shipping of orders will begin in June 2023 and once this 500 are gone we wont have any more until the end of the year.
To learn more about what you can do with the MyndHub visit http://www.myndhub.com
This offer is only available to link holders. One per customer.