MyndVR Oculus Go Bundle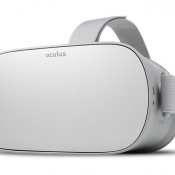 £399.00
Description
MyndPlay introduces the world's first mind-controlled VR kit - MyndVR Oculus Go with an integrated MyndBand BLE headset and a pre-installed MyndVR Player.
This special offer includes:
- Oculus Go - a portable, all-in-one VR headset
- MyndBand BLE - the world's first research grade customisable EEG Neurofeedback headset which also integrates directly into VR headsets allowing brainwaves to go beyond the lab and the screen into the real and virtual world.
- the MyndVR Player - the world's first player created to control virtual environments with your brain. MyndVR Player for Oculus Go allows you to control videos and train your brain in the virtual environment. The MyndVR Player allows one to play mind-controlled VR apps, as well as creates a more immersive environment for non-VR MyndPlay video apps, and allows you to record the brain response for future analysis and progress tracking.
- a training VR app which puts you inside a human brain and allows you to fire off neurones with the power of focus and calm
- the world's first VR app as presented at the World Travel Market Show in London**
- 4 non-VR MyndPlay video apps for training in the most immersive environment on a giant curved screen*
READ MORE ABOUT OCULUS GO HERE - https://www.oculus.com/go/
READ MORE ABOUT MYNDBAND BLE HERE - https://store.myndplay.com/products.php?prod=28