Mynd-Fitness Bundle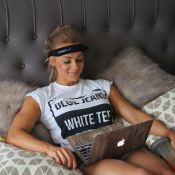 £279.00
Description
The ultimate package for training self control and mental resilience includes:
1. MyndBand BLE headset - a research grade EEG monitor used to study current brainwave (EEG) patterns, train improved patterns and then apply to performance. It is used for mental resilience training for business, life and sports performance, therapy and immersive entertainment. Usual headset price - £199.99.
2. MyndCap - a custom built cap designed to integrate the MyndBand BLE headset directly into a simple comfortable, breathable cap for when you want to take your research and training out into the field. Usual price - £29.99.
3. MyndPlay Pro Research and Analysis Tools (for Mac or PC) - an all-in-one neurofeedback recording, reporting and analysis tool, which allows to record/view your brain reactions in the real-time. Also includes the revolutionary MyndPlay media player to play MyndPlay apps. Use it to validate and compare training and therapy techniques, improve your performance by understanding your brain, behaviours and triggers; connect with your mind and take control with neurofeedback training to develop greater mental awareness (mindfulness) and emotional control. Usual price £79.99
4. GoCalm (for Mac or PC) - a software designed specifically to help learners cope with exam pressure, which is now actively used to also train the brain to stay clear and focused in other stressful life situations. Includes guided videos, brain training and brain gaming with session history and progress reporting. Allows to create 10 individual profiles.
5. Custom set of sports apps for mental training - depending on which apps you already have, we will gift you £15-20 worth of apps for calm and focus training.
Get the best of brain fitness training by making it personal.
Claim the Bundle now.
___________________
FIND OUT MORE ABOUT MYNDBAND BLE HERE - https://store.myndplay.com/products.php?prod=28
FIND OUT MORE ABOUT MYNDPLAY PRO HERE -
https://store.myndplay.com/software.php?swid=12
FIND OUT MORE ABOUT GOCALM HERE -
https://store.myndplay.com/software.php?swid=24