MyndBand BLE + GoCalm Bundle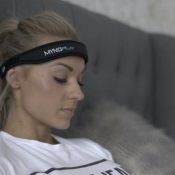 £174.99
Description
Black Friday Deals end 30/11/23 - Save £25 on the MyndBand GoCalm Bundle
***** SPECIAL OFFER ***** MyndBand BLE Headset with GoCalm app for Exam Anxiety and Brain Training Platform
---
GoCalm helps learners cope with exam pressure through guided videos, brain training and brain gaming with session history and progress reporting to keep learners focussed and calm for exams and beyond.
Most learners will feel nervous under exam pressure. GoCalm is designed to help learners identify how it feels to be calm and focused so they can bring that state of mind into their exams.
Need to relax and focus quickly?
Follow the guided videos for techniques to relieve anxiety and move towards a more relaxed and focused state of mind.
Want to improve focus and learn how to feel calm at times of stress?
Train your brain by understanding and visualising how it feels to be calm, focused or both with a series of exercises. A choice of levels and times helps track your progress.
Want to improve your mind through play?
See how being calm and focused affects your performance with a choice of fun games. Buy the GoCalm app together with a headset and choose 3 additional MyndPlay apps for free.
Up to 10 individual profiles also allows you and your students, friends or family to get involved and build their own session history.
Included also is the MyndBand BLE EEG Brainwave Headset.
The MyndBand is the world's first research grade customisable EEG Neurofeedback headset which also integrates directly into VR headsets allowing brainwaves to go beyond the lab and the screen into the real and virtual world.
The MyndBand uses 3 dry sensors on the forehead to measure brainwave activity, this is then transmitted via Bluetooth to a computer, tablet or phone allowing a user to see their brain activity, focus, relaxation and mindfulness states in real-time.
It safely measures brainwave signals and monitors the attention and relaxation levels while also allowing a user to interact with the different exercises and games.
Output:
Raw brainwave data at 512Hz
Processing and output of EEG power spectrum
Attention
Meditation
Mindfulness/Zone
Blink detection
EEG signal quality analysis
Uses the TGAM EEG module
Bluetooth radio, PC, Mac and Android compatible
Lithium-ion rechargeable battery via USB with up to 10Hrs use
The MyndBand SDK is also available for desktop, mobile and VR applications.
Disclaimer: The GoCalm app is designed to help learners develop coping strategies for exam pressures. It's not designed to be a substitute for seeking professional medical advice on any health-related matter. If you have any concerns please speak to a responsible adult/teacher or consult your General Practitioner (GP).