Puzzlebox Orbit Helicopter & Mindwave Mobile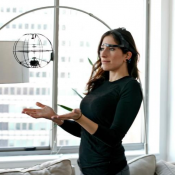 £189.00
Description
The Puzzlebox Orbit is a revolutionary helicopter which is controlled by the brain: you can use your mental concentration or relaxation to adjust the throttle and flight and the rest is done via the Orbit app on your mobile device.
The Orbit and Mindwave Mobile bundle gives you everything you need to get started with this new way to train your brain and have fun at the same time: teach the power of concentration, relaxation and impulse control through the medium of flight and amaze all those around you.
The MindWave Mobile headset can also be used with all other MyndPlay and Neurosky games, movies and applications. The Orbit app is compatible with smartphones and tablets.
This is the ideal tool for education, mind and gaming that combines making the art of focussing and relaxing as fun and engaging as possible.
Order yours today.
N.B. Due to the size of the package, multiple orders will have a higher shipment cost. For multiple orders, please email info@myndplay.com